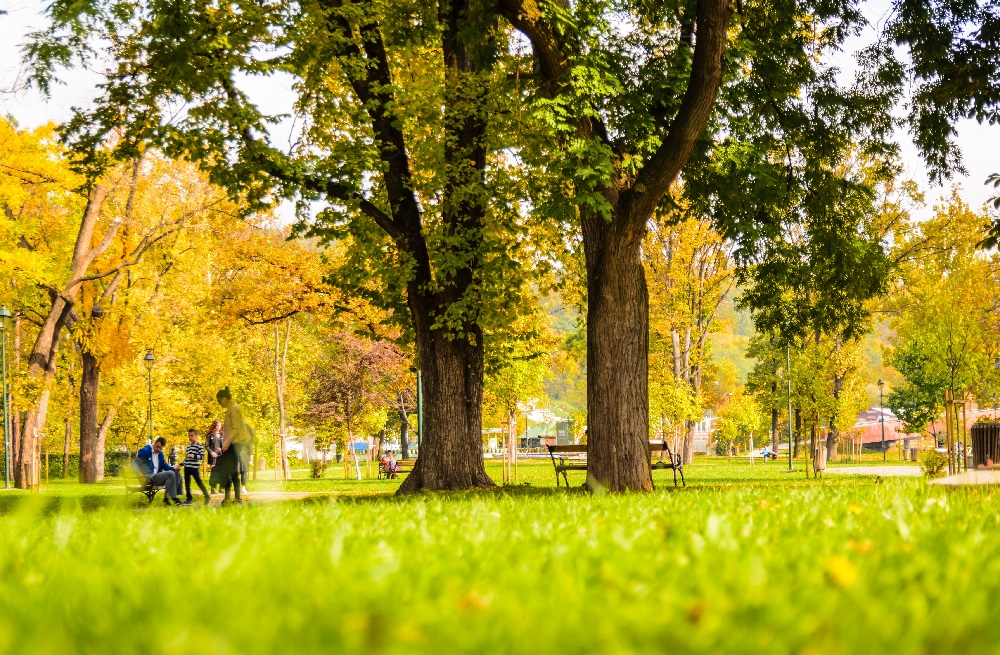 December 15, 2020 9:30 am
There's something very rewarding about transformational landscaping projects, which is one reason we love taking them on.
Part of that is the ability to transform blighted areas in towns and cities into attractive public spaces. It's a great feeling to see what was once an unattractive space now being used and enjoyed by people.
If you're looking at revamping a blighted area, here are some things to consider:
Download here: 10 small ways to transform blighted areas
Goals for your transformation
Urban infrastructure doesn't have to mean utilitarian blight. For example, consider alleyways, drainage canals, parking areas, sidewalks or electricity transmission corridors – all exist for a certain purpose and all are prone to becoming blighted.
One of the things we always like to consider is how the space can be utilized for more than one purpose. For example, what if that drainage canal could become an attractive waterfront? Or if that alleyway could become a space where people relax, or restaurants can have tables?
"Landscape is not just about creating spaces, but transforming them: about harmonising disparate elements in a way that creates value and addresses societal needs." – Landscape Institute Conference
The problem with urban areas that become blighted is that decay and dishevelment can beget more of the same. It's not just the infrastructure corridors, but things like empty lots too. Property values drop, people stop frequenting the area and people and businesses move out. No one enjoys hanging around places that are dirty or in disrepair.
So what sort of goals do you have for blighted areas in your town? Here are some common aims:
To stimulate economic development
To create pleasant spaces and prop up the image of the area
To improve public safety
To make environmentally friendly improvements
To improve health and wellness
To encourage people to use the space for recreation
Urban blight can be transformed to create desirable destinations. In fact, many cities across the world are working on doing just that. Philadelphia is a good case study example of tackling blight, where efforts have been ongoing since the 1970s. One finding from their activities is that simply cleaning and greening a lot can improve the value of neighboring homes by 20%.
What makes an area desirable?
What makes an area desirable for people? Some basic considerations include:
Safety. For example, areas being clean and well-lit.
Aesthetic appeal. People like things that look nice!
Places to rest.
Places to walk, play catch or otherwise exercise.
Places to sit and eat.
Consideration for sun, shade and shelter.
Examples of transforming blight
We have been a part of some of these projects here at Jerry Pate Design and enjoyed making the transformation. For example:
Alleyways
Jefferson Street Garage in Downtown Pensacola was a drab area that didn't attract people to it. We put some landscape architecture measures in place, such as planter boxes that would slow down traffic in the area. We also created plantings and artworks along the alleyway, bringing some brightness to the space.
As a result, the corridor has engaged people and the local stores are using the back alley to serve food and drinks. You can see some of that alley in the picture below – what was once plain brick and concrete has now come alive: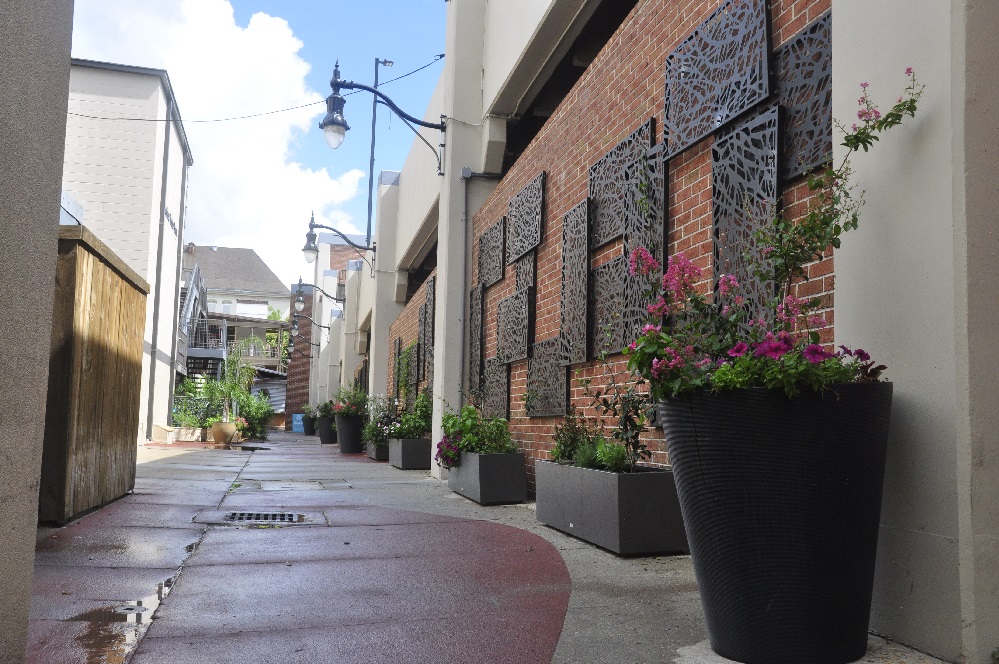 Another idea comes from a program the City of Chicago is running – Green Alley. Theirs is an environmentally friendly initiative, seeking to improve drainage and reduce runoff into sewers for expensive treatment. They use permeable pavements, catch basins and a high-albedo pavement, which reflects sunlight and reduces urban heat island effect.
Greening lots
We mentioned Philadelphia earlier. The city is an interesting case study because it is one of the first of multiple cities across the United States that have a big problem with blighted areas and have introduced programs to deal with them. Greening lots is one of those.
Vacant lots tend to attract blight and crime, according to their studies. They often get strewn with trash and become difficult to stay on top of. Their studies found that people's heart rates actually increased when being taken through a blighted lot, while heart rates decreased going through a greened lot.
People actively avoided the blighted lots – school children were seen to walk in the middle of the road to stay as far as possible away from them. On the other hand, once the local horticultural society was contracted to plant out and improve the lots, people wanted to be part of them. Many of those lots are now watched over and looked after by neighbors. Further study even found that those lots improved the mental health of adults in the neighborhoods.

Greened lot in Philadelphia (Source)
Parking lots and community spaces
Another project we enjoyed working on was Community Maritime Park in Pensacola. The area by the waterfront there had a number of issues that needed resolving – trash, a blighted lot and a lack of pedestrian safety. We were tasked with creating an attractive space there, improving safety and utility, and making it a destination where people would want to come.
There were a number of initiatives we put in place to improve the area. For example, we treated the parking lot as more of a pedestrian zone than an auto zone. We put in plants and hardscapes that created pedestrian walkways and safety islands. Hardscapes were also used as a way to naturally force vehicles to slow down.
We also created a tree-lined alley for pedestrians, leading them from off-site parking to the entry plaza. Parkland areas were developed to encourage people to recreate in them. We're proud to say Community Maritime Park won Commercial Development of the Year by Northwest Florida Chapter of the National Association for Industrial and Office Parks.
Sidewalks
We've looked at sprucing up sidewalks to make them more attractive to users before, but it's worth revisiting in terms of transforming blighted areas.
Common issues with sidewalks include:
They're not wide enough, putting pedestrians close to the traffic, possibly even precluding those on mobility scooters from using them.
They are poorly maintained. Cracking and unevenness can make them hazardous to pedestrians, as can issues with flooding or ice.
They're dirty. No one enjoys walking through trash or animal waste!
There aren't enough of them! In many areas, there aren't enough sidewalks to take people to the places they'd like to go.
There's nothing interesting to see, or there's a sense of danger. If a blighted sidewalk is running past blighted areas, people give them a wide berth, just like the Philadelphia studies.
They're not well-lit.
There are many things you can do to transform blighted sidewalks. For example, by widening them and putting in planters or gardens in a strip next to the road. This helps with keeping pedestrians separated from vehicles. Basic things, like installing trash and dog waste receptacles, can encourage people to keep them clean. Seating along the way can encourage people to walk more because they have a place to stop and rest.
*Space to put a Jerry Pate example here*
Free download: 10 small ideas for transforming blighted areas
Final thoughts
Whatever your purpose for transforming a blighted area, there's no doubt it's a rewarding exercise. We've seen from examples around the country that improvements can be made for people and the environment.

Surrounding property values can go up when blight is dealt with. The people of the area enjoy better physical and mental health, and lower incidents of crime. There's a tendency for people to take pride in their cleaned-up area and to watch over it.

In areas where there are businesses, we've seen transformation encourage them to use the space and bring in more customers. Transforming blighted areas can transform the local economy.

Tags: blighted areas, blog, property values, public spaces


Categorised in: Blog, Neighborhood Landscape Design

This post was written by Steve Dana