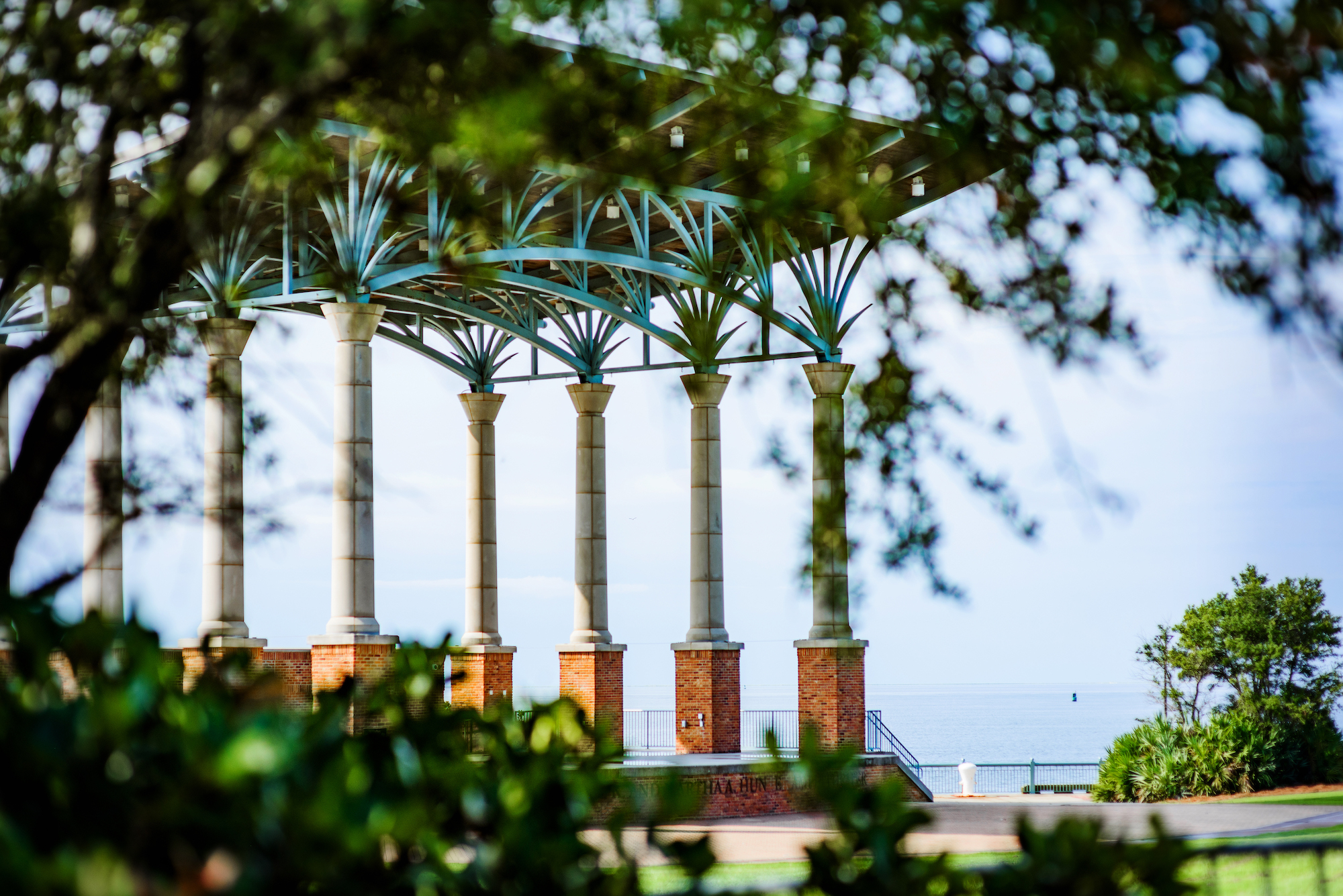 April 10, 2023 1:48 pm
When we think about successful landscape architecture, many qualities are top of mind. From flower arrangements that will remain beautiful throughout the year, to the seating areas that make an environment welcoming to people, to the irrigation that will help it stay safe and eco-friendly, a variety of concerns must be addressed.
But one factor that sometimes gets overlooked, particularly in commercial projects like those we specialize in, is structure. By that we mean the pergolas, arbors, trellises, colonnades, and more that can act as extensions of a building and provide a dynamic addition to an otherwise plant life-centric design. Not only do they create that added visual depth, but outdoor structures often inspire people to spend more time in a landscape.  
Take, for example, a lush garden on your commercial property. Despite the winding paths you've incorporated, visitors might not know how much of it is intended for their use. They may be wary of the potential for an unspoken "look don't touch" rule. However, if you install a pergola with picnic benches and a grill beneath it, the extent to which they are invited to enjoy your landscape architecture becomes clearer. 
That said, pergolas are certainly not the only option for an outdoor structure on your commercial property. Let's discuss all of the ideas! 
Pergolas for Your Landscape Architecture
We'll start with the aforementioned pergola, as it does remain a popular choice. These are often crafted of wood but more steel and iron varieties are popping up too. Typically a basic square of a structure with a slated, partially open "roof," a pergola serves to frame a seating area and/or view.  
Additionally, you can always build upon the traditional view of this structure. Consider a solid roof to allow for a small shelter against rain or sun. Another idea we like is to close in the sides of the pergola and install built-in grills or bench seating—both a great use of the space. 
Arbors: Cousins of the Pergola
If you aren't wanting to create a seating or cooking area but rather a smaller accent to frame views or host vine-growing plant life, arbors might be your best option. A favorite of event venues for their altar potential, these Secret Garden-esque structures often bring a sense of whimsy to landscape architecture.
As with pergolas, arbors offer some customization. You could make one with a longer length, so as to create a sort of arched walkway. They are also available in wood, iron, and more—tons of aesthetic possibilities here!  
The Flower Lover's Favorite: Trellises 
You certainly don't need to be a floral fiend to appreciate a trellis. But these outdoor structures undeniably command the flower gardener's adoration. Often a part of arbor designs with those vine-growing plant life features we mentioned, trellises are essentially a latticework structure designed to display flowering vines.
Along with showcasing vine plants, trellises often have potted flowers attached to them with hooks. This widens the possibilities of what you might feature. All in all, trellises give you the opportunity to bring height to a garden area and/or provide a nice photo backdrop. 
Colonnades for a Little Drama
We'll admit, incorporating a colonnade into your landscape architecture is more of an undertaking. It could also feel too dramatic for the environment if you aren't careful. But in the right setting, a colonnade can provide a walkway fit for the romantic age. It also sometimes serves as a guide to where one might go next in your landscape. 
Essentially a row of columns with or without a roof-like structure, a colonnade defines a walkway in landscape architecture. It could be lined with benches if wide enough, which is a great way to provide rest and shade, too! 
The Classic: Gazebos
Looking to add a sense of small-town charm or old-school romance to your landscape architecture? You need a gazebo. Okay, you don't need one, and there are other reasons to love gazebos. But something about this structure evokes those feelings.  

Regardless, a gazebo is a super versatile and useful structure to include in your landscape architecture. It can be used for seating, getting a nice view of something, or to host speakers, ceremonies, and entertainment. You could make one out of a variety of materials and styles, with or without screens, etc. It could be incorporated into a playground, as in the Mother Seton Garden at Studer Family Children's Hospital shown above. They also just add a bit of interest in an otherwise green landscape. 

 

Whether you want to provide an opportunity for rest, a chance to catch a view or show, or simply a pretty place for plants to thrive, structures can elevate your commercial landscape architecture. 

If you'd like to throw some ideas around, we'd love to join in. View our work and get in touch today. 

Tags: arbors, Benefits of Landscape Architecture, commercial landscape architecture, commercial landscaping, gazebos, landscape architects, landscape architecture, landscape architecture company, landscape architecture design, landscape architecture near me, landscape architecture planning, landscape structures, pergolas


Categorised in: Blog, Commercial Landscaping, Golf Architecture, Green Spaces, Landscape Architecture, Neighborhood Landscape Design, Project Management, Site Planning, Uncategorized

This post was written by Steve Dana